The 40th Anniversary Panhellenic will be held from 9 to 13 June 2022 (Three Days of the Holy Spirit) in Corfu, at Messonghi Beach Holiday Resort.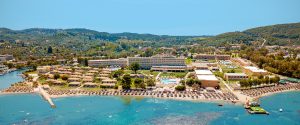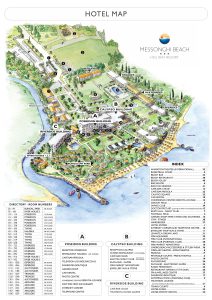 The accommodation is all inclusive and includes:
MEALS:
Buffet breakfast: from 07:00 – 09:30
Snacks and drinks: from 10:30 – 12:00 (coffee, tea, cake, cookies)
Buffet lunch: from 12:30 – 14:30
Snacks and drinks: from 16:00 – 18:00 (coffee, tea, cake, cookies)
Buffet dinner: from 19:00 – 21:30
Meals include beer, wine in bulk, soft drinks, water
Participants have the opportunity to request a packaged meal for their day trips. This must be ordered by name the day before, and until 14.00h at the reception.
Drinks and ice creams: From 10:00 – 23:00
Hot drinks: filter coffee and tea
Ice cream: Ice cream in various flavors
Drinks: draft beer, bulk wine, soft drinks, drinks from Greek Distilleries (whiskey, vodka, gin, rum, cocktails etc), greek aperitifs (ouzo etc). "Brand name" drinks with extra charge.
NOT included in the "all inclusive" package: bottled water, Italian espresso coffee, Greek coffee, Nescafe frappe, cappuccino.
The participation fee is determined as follows:
From Thursday 9/6 (4 nights): 230 €
From Friday 10/6 (3 nights): 180 €
From Saturday 11/6 (2 nights): 135 €
There is a possibility for extra days before the official start of the Panhellenic, with a participation fee of 60 € / person per day
Children: 1st child up to 11 years old – Free. 2nd child (when sharing the room with TWO adults – 50%.
The above prices are per person in a double room and include:
Participation in the 40th Panhellenic Games and all its events (concerts, parties, excursions, awards, etc.)
The above nights, five meals a day, free drinks and ice cream, as described above
Souvenir & gift package (T-shirt, pin etc)
Parking space for motorcycles, fenced, with cameras and security
Awards and distinctions
Free use of the facilities of the complex (swimming pools, gyms, games, etc.)
Children: Free babysitting – morning and afternoon activities. Children's pool (under parental supervision)
Upon request, there is (for those who so request) a limited possibility to stay in a triple or quadruple room with the same prices per person.
Single room accomodation has an extra charge of 35 € per day
ADDITIONAL CHARGES:
Sunbeds on the beach, set (2 sunbeds + 1 umbrella) 6 € / day
Wi-Fi 5 € for the entire duration of the event
Sea sports
Spa (with 10% discount on the catalog)
Reservations and Registrations in Panhellenic will be accepted ONLY by the Electronic Entry Form of the event ( HERE: https://motoe.gr/wp-content/uploads/2022/04/Entry-Form.docx ), which must be sent completed to the Secretariat of MOT.O.E. (secretary@motoe.gr) together with proof of payment
Stay tuned for more information as well as the entry form and the Rules of the event, here; Regulation
For more information call Stelios Korelis, +30 6932762769